Print and Apply
The M-Series range of Print and Apply automatic label applicator are designed to be used inline and automatically print and apply labels to products as they move along a production line or within a warehouse or logistics facility. Our M-Series line offers a fully modular solution to meet the many and varying needs of manufacturers today. Consisting of printers, applicators and accessories, the standard configurations offer a solution for a vast range of print and apply requirements.
The M-Series range of labelers allows Domino to offer a full range of primary, secondary and pallet coding solutions.
Reduced errors
By decreasing the number of errors during printing, we can help you reduce production costs. M-Series labelers result in few errors because:
Simple label selection for the M-Series provides for operator independence

High resolution printing of bar codes, text and graphics ensures supply chain compliance
The M-Series is able to achieve higher pallet coding quality meaning you will experience intuitive and efficient printing.
Flexibility
Whatever your requirements, the M-Series range of print and apply labellers is versatile enough to meet them. For example: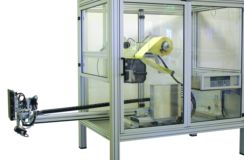 M-Series can apply a label with Blow, Tamp, Tamp-Blow or Wipe label application options, left and right hand variants to provide an optimal solution

The unique design of tamp applicator pads enables a wide range of different labels to be applied using the same applicator pad
High quality pallet coding can be carried our quickly, efficiently and accurately using the M-Series print and apply automatic label applicator solution.
Connectivity
The M-Series features both USB and RS232 connections as standard with optional Ethernet
Easy to Use
Simple ribbon and label paths ensure fast and effortless change overs

M-Series software uses familiar Windows based interfaces

The high performance printer control unit provides an intuitive and an informative operator interface